Top 10 website chatbot examples of 2022
Shivam Verma
23 November 2022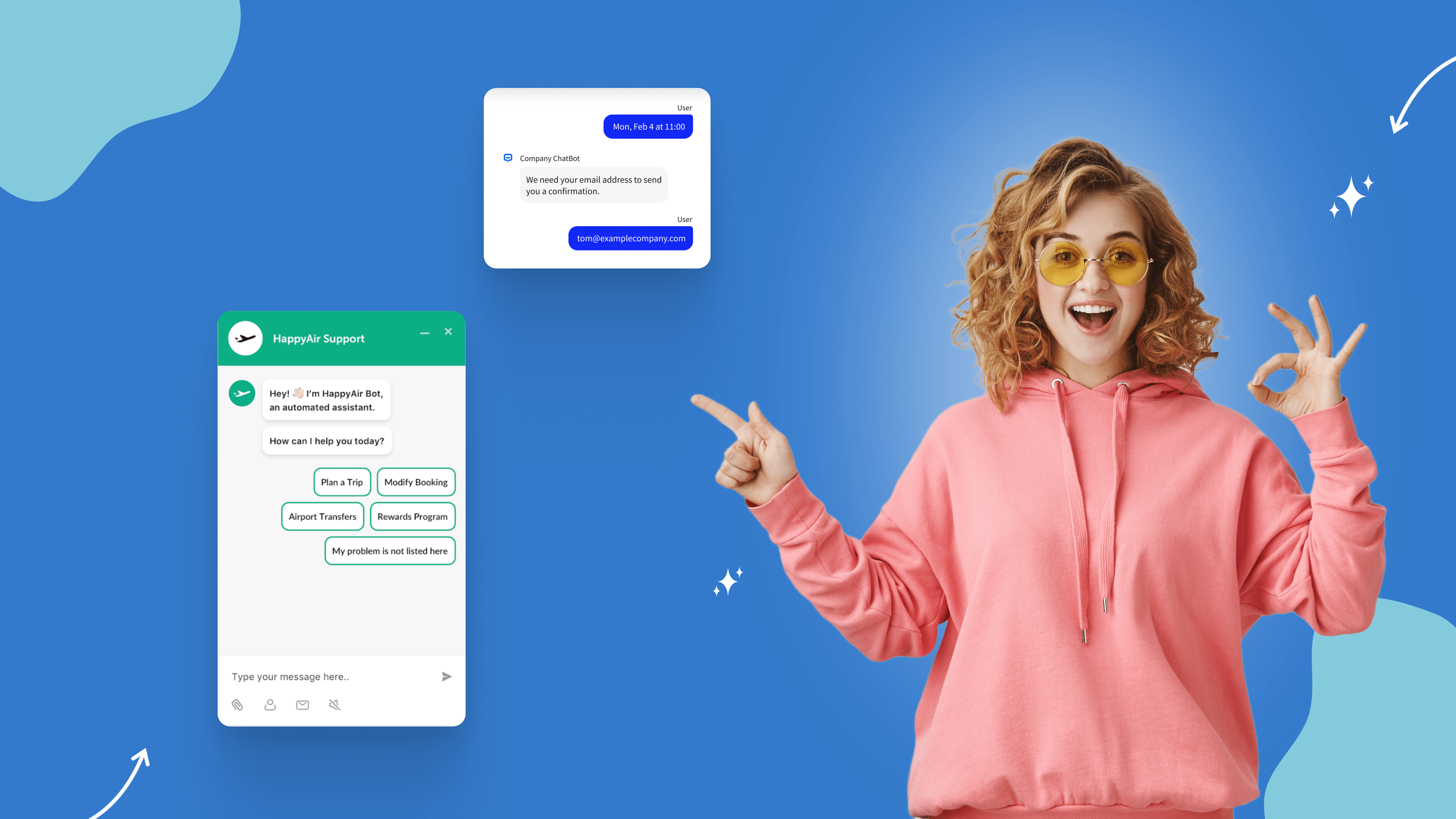 Customer expectations are at their peak in today's digital world, and they expect 24/7 availability from a business. Thereby, Chatbots have become convenient and inexpensive ways to provide the same. The Conversational AI adds an automated live chat feature to your website that allows users to interact directly with you and clear concerns when they need.
Besides, the chatbot not only unburdens customer support, but its features are useful to expand the customer base, generate and qualify leads, and assist customers in any language they prefer.
Therefore there's a huge growth in the use of chatbots for marketing and promotions. As per Acumen's research, the global chatbot market size is expected to reach USD 2411 million by 2020.
In the article, we'll discuss what website chatbots are, what are website chatbots examples, and some of their benefits.
What is a web-based chatbot?
A web-based chatbot is a programmed interface designed to conduct a conversation via text or voice with users who visit your website. This software mimics human behavior and offers human-like interaction. These conversational AI are mostly programmed with possible questions and tailored responses.
So customers get Swift solutions for their questions when they open the webpage without having to wait in line for human response.
Why do we need to integrate a chatbot on the website?
The potential of chatbots is enormous. While in the past, chatbots were able to clear only defined queries, today, AI pushes the chatbot beyond simple answering. It enables personalized communication and better customer service. So here are more specific reasons for integrating a chatbot on the website.
Real-time response
Today Customers are impatient as they live in an on-demand economy. With just a few taps on their mobile device, they get what they want and when they want. 
Even with businesses, the expectation is the same. Customers want their requests attended to right away. 
However, traditional customer support can't promise instant solutions, especially during peak hours. But with chatbots, it's possible. The Conversational AI responds to the customers right away, irrespective of their number.
Wider audience 
The prime motive of any business is to reach out to a large audience and connect with them. While the whole situation seemed unreal and unachievable in the past, with the integration of a chatbot with a website, the goal can be easily achieved now. Chatbots can engage and interact with large audiences effortlessly.
Increase revenue
The prime reason for any business to invest in better technology is to culminate in increased revenue. 
With a chatbot, customers get instant solutions, which accomplish their purpose of visiting. Ultimately, your business will experience more sales and a higher rate of on.
Surveys and feedbacks
Getting a value judgment can take your business a long way. It is crucial to understand what your customers think about your products and services. The feedback is needed to carry out customer-centric improvements.
With an AI-based chatbot, feedback can be streamlined conversationally. Collecting customer reviews is no more challenging. The chatbot helps you collect both qualitative and quantitative data about customer experience.
What kind of websites use chatbots?
E-commerce
The e-commerce industries have the potential to experience huge sales growth. Despite that, they struggle to keep up with their sales cycle through traditional channels like emails and phone calls. The visitors feel less engaged while filling out static forms.
AI chatbots have been a saver; it has helped capture and qualify leads faster, provide cross-platform support, create shorter sales cycles, and more.
Human resources
The HR department is crucial to run a company smoothly. However, the recruitment process is an uphill task. It becomes difficult for an HR manager to find the right candidates, resolve queries and conflicts, and ensure policy compliance all by himself.
Therefore businesses are using conversational AI for futuristic and proactive HR activities. It saves almost half of the time usually spent on staffing.
Healthcare industry
Hospitals have to maintain a large number of records and data on patients every day.
Every record is crucial and needs a lot of attention. Any minor mistakes during manual entries can cause problems for patients.
Thankfully with AI-powered chatbots, many such tasks can be easily automated. It eliminates the need to manually fill out forms and schedule meetings for patients according to available time slots.
The patients no longer have to rely on calling the hospital staff to fetch information or waiting for responses for transfer requests, discharge, and consultation. The AI-enabled chatbot does that for you.
Real estate
Every single potential customer plays a major role in the real estate industry. Losing those leads can be a huge loss in terms of money. Every customer needs to be responded to on time and nurtured throughout the process.
Conversational AI assists buyers with the information and helps they need during the purchasing process. It helps the buyers manage legal documents, assist in property valuation, and smooth transactions.
Banking
Conversational AI eases the whole banking experience. It helps customers with information about the interest rate for loans and mortgages. The chatbot also easily answers questions related to due dates, bills, loans, and credit cards. 
The AI assists the users in the payment process, manages their payment method, or transfers funds. And most importantly, a chatbot could also prevent fraud by immediately tracking the geographical location of any suspicious transaction.
Best website chatbot examples
Capital one
Capital One is an American Bank holding company that provides a large variety of financial products and services.
Eno, which is Capital one's chatbot, assists customers with their money. This e-commerce bot helps users to review their transactions, check account balances and keep track of spending.
Eno chatbot keeps an eye on users' accounts regularly and updates the user if any unusual spending takes place.
In addition to that, it sends an update to users in case any duplicate charge has been made, or any other mistake takes place. It makes the whole payment process super easy, Making users' experience flawless.
Duolingo
Tourism has become very popular. There has been a noticeable increase in travel, and people are exposed to more languages than ever before. There has been a spike in interest in people learning a new language due to that or various other reasons. 
The popular Duolingo learning platform has been ensuring exciting learning experiences for users with the help of a chatbot.
The bot guides the users through a text conversation around any particular subject and suggests a response in case they get stuck. The bot makes corrections for users when they make any mistakes.
The chatbot allows the user to learn a preferred language effectively and effectively.
Hazel
Hazel is a team management tool that collects employee feedback for effective performance. The chatbot helps keep track of the team's performance which is used for recommending growth plans and giving feedback.
As well as enabling weekly check-ins where the manager understands the team's strengths and focuses on the area of improvement. 
Hubspot
Hubspot is an American developer and marketer of CRM and email marketing for Small and medium businesses. It has a massive audience. Therefore when they had to develop a product for a particular client, the client had to fill out a huge form on the company's website, which didn't go very well. 
That's when Hubspot created a chatbot that simplified the questioning process. Now clients are only asked the relevant questions in the form of short messages that they don't mind answering. Therefore, the questionnaire process was simplified, and the company was able to provide better and customized products to clients.
Domino's
Now customers can easily order delicious pizzas with the help of Domino's chatbot Dom. The chatbot helps the customer track an existing order using Voice or text. The Dom also makes sure that the quality of the pizza is maintained.
Not just that, the chatbot allows you to reorder the pizza when you like.
Casper
Casper is a mattress e-commerce company that launched a free chatbot for insomniacs. This bot is designed to keep people company when they can't fall asleep. Thereby, it functions between 11 pm and 5 am. The purpose is to initiate late-night conversations with users so that they feel less lonely.
The initiative was taken to have conversations with the late-night owls related to various points throughout the day, work stress, coffee, or something they'd just watched on TV, which is keeping them awake.
The chatbot creates a wide range of responses based on often repeated subjects.
Peloton
Shopping cart abandonment is a major loss in revenue for any e-commerce business.
To overcome this problem, Platon, a fitness e-commerce company, integrated a website chatbot onto its platform.
The chatbot analyzes the customer's problem and connects them to a support executive from a particular team. This helps support teams to understand the problem better and resolve the tickets quickly, improving the degree of customer satisfaction.
Scripbox
While managing wealth is crucial, it doesn't come with ease to everyone. Therefore people try to seek a user-friendly solution. And keeping that in mind, scripbox has deployed an independent chatbot making wealth management easy for customers.
The bot guides the users through mutual funds, the stock market, deposits, government schemes, insurance, and other products.
The bot provides various options that customers might need help with. After each selection, the bot narrows down the topic and offers relevant and more specific solutions.
Amtrak
Amtrak is a travel industry that has adopted conversational AI, which helps customers get all the needed information on the go. The users can simply ask Julie to book a train, plan vacations and navigate routes. 
Now the users don't need to spend time on websites or call the agent to book a ticket.
Sephora
Sephora is a multinational retailer of personal care and beauty products with a huge selection of great brands. 
Being one of the world's leading cosmetic marketplaces, customer support teams were overloaded throughout. And automation was only the solution.
Deploying a bot solved their problems. Now the chatbot offers 24×7 website support. It answers any queries related to skincare, haircare, and fragrances. Also, hand over the tickets to a "beauty advisor" if more attention is required.
Wrap up
We hope you are inspired by the above website chatbot examples. If you're looking forward to maximizing your website performance, Chat360 can be your best friend. Companies like Nestle, Ford, LG, Okaya, and many other brands have trusted Chat360 for outstanding results. Sign up for free and experience the difference yourself.