How to use Instagram Chatbot for Direct Messages?
Srishti Panwar
24 November 2022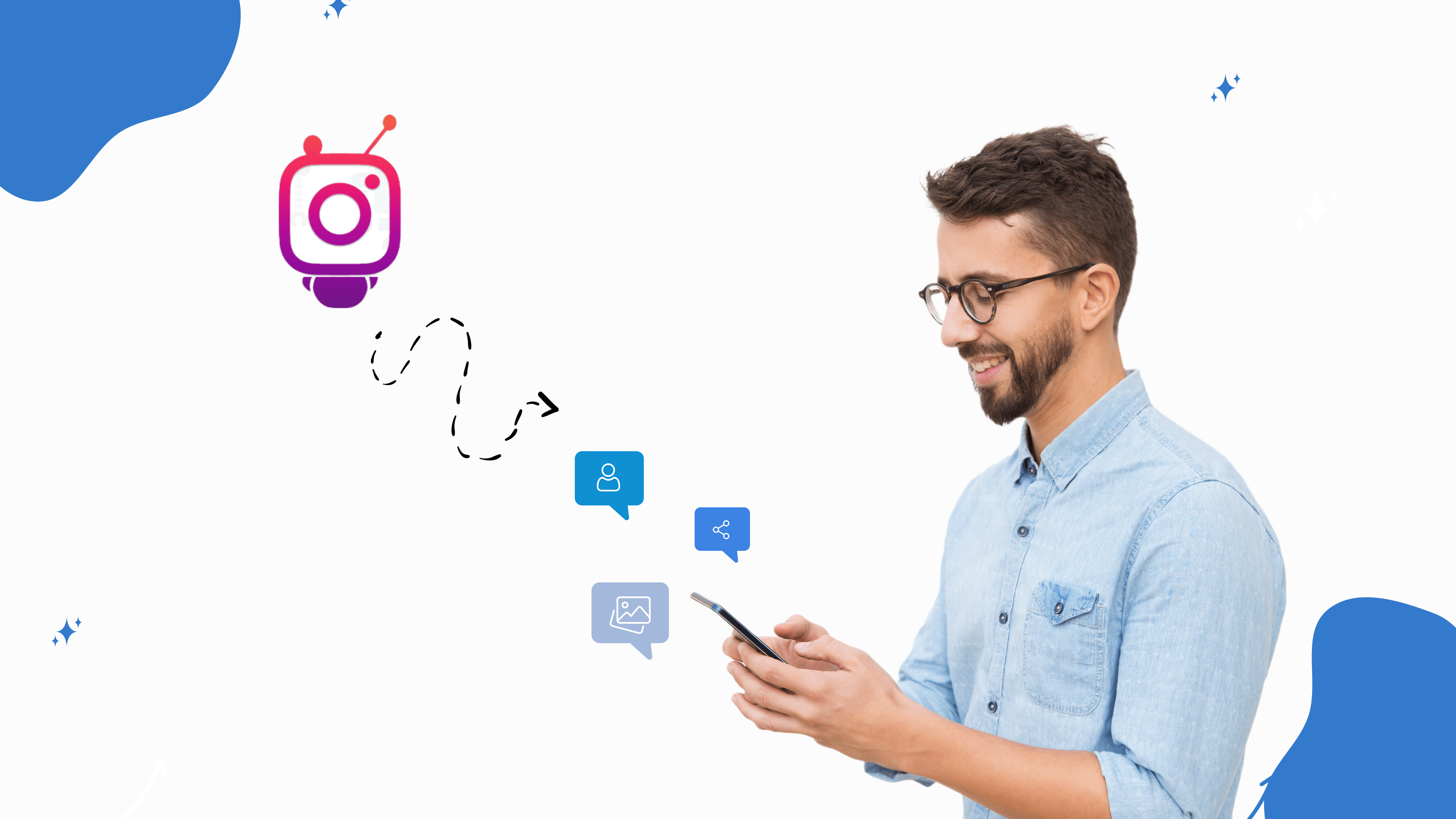 A survey says 70% of customers look into Instagram for their purchases, so business owners are usually flooded with direct messages, comments, and mentions. 
While you wouldn't want to ignore any of those messages, replying to each user one by one gets laborious and inefficient. Therefore, to get rid of such an overwhelming situation and manage the pool of leads, automation can be of great help. Thereby, Integrating the Instagram chatbot for direct messages does the job for you.
Deploying chatbots can open floodgates of possibilities for businesses. The Conversational AI on Instagram can respond instantly to the customer's queries and offer such a good experience that customers turn into advocates. 
In the blog, we will talk about why we need Instagram chatbots and how to use them for direct messages.
How to use an Instagram chatbot for direct messages?
Answering repetitive questions
More than 50% of customers expect 24/7 availability of business. They want their problems resolved right away. However, it's next to impossible for customer support employees to provide the service round the clock.
That's when the Instagram chatbot proves worthwhile. The bot interacts one on one with clients in real time while you are away. It takes care of long-winded, repetitive processes, while human agents can focus on more complex areas.
Automate sales
Instagram chatbots can help create outstanding conversational experiences to incentivize customers and automate sales. The conversational AI powered by deep natural language processing capabilities helps the chatbot understand the customer's language, emotions, and problems.
The Instagram chatbot offers, in turn, replies consisting of product details, order status offer, or store locations that the user is asking about. 
Not just that, the bot can also assist in initiating payment by powering transactions using any third-party payment solution or redirecting the customer to the checkout page of the business website.
Personalized product recommendation
Personalized Product recommendation does a lot of good for any business. Chances are high that customers will make a purchase when relevant products are shown to them. Conversational AI solutions send personalized recommendations to users to influence their purchasing decision.
For example, when assisting customers with their product-related queries, the bot asks a predefined question and saves their preferences for recommending relevant products.
Also, the Instagram chatbot can do the task more interactively by asking shoppers if they are interested in similar products and providing them with yes or no options. With that given intent, the AI can recommend products.
Retarget abandoned carts
With the help of the Instagram chatbot, it's possible to send promotional messages to recover abandoned carts. Triggered template messages can be very helpful in influencing your customer's purchase. For instance, a customer added a mobile phone to the cart but didn't make a purchase. A trained Instagram chatbot automatically sends discount offers to entice customers to make a purchase.
Product Information
Through direct messages, the Instagram chatbot can educate prospects about your products and convert those visitors into customers.
Or you can also set up a chatbot template 24/7 to promptly handle information-based questions and engage with customers.
You can share informative blogs, infographics, guide videos, podcasts, and more content to inform the user.
Why do we need to have an Instagram chatbot?
First things first, with 2 billion active monthly users, Instagram is no doubt an extraordinarily popular social media platform. With that many eyeballs, businesses of all sizes can thrive on the platform. With an active presence, a business can increase brand awareness and connect with the audience with ease.
Businesses can make the most of Instagram by partnering with influencers with large followers. You can market your product through influencers which can bring your company sales to a new level.
Instagram helps you increase a brand's visibility with suitable hashtags. This is a platform where you can easily learn from your competitors. You can adapt the way they post and interact with their followers; this way, you can take inspiration and create your strategy.
It helps you run customized, trackable advertisements and reaches new customers. Target specific demographic, link to your website, and gather useful user data for future reference.
And integrating chatbots with Instagram is like a cherry on top. People can message you whenever and from wherever they want. And you can grab that opportunity to deliver a flawless customer experience and boost your sales.
Conclusion
If you're looking forward to boosting your sales, Chat360 is here to do the job. With Chat360, you'll experience cost-effective onboarding, and it will help you grow your presence by connecting with people from all age groups. So don't miss the chance. Sign up for free and see the difference.